Staff test garden skills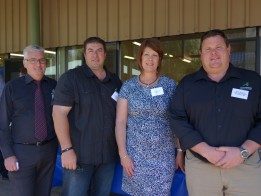 Fifteen staff from the Department of Finance got their hands dirty to beautify the Settler's Townsite of Burlington Road, Baldivis.
They worked alongside Intework-supported employees who put gardening skills of the government works to the test.
The project was part of Inteworks's contract with Lochness Landscape Services and the City of Rockingham.
Interwork chief executive Fiona Beermier said the not-for-profit organisation was approached by the Department to host their staff as a way to increase their awareness of the Australian Disability Enterprise (ADE) program.
"From instruction on how to safely use equipment such as hedgers, and blow-vacs to demonstrations as to the best way to remove dead vegetation from the bushes, the visitors were put through their paces by our supported employees," she said.
Department of Finance assistant director Andrew Davey said the experience highlighted the capability of the ADE program and its overall benefit to the community.
"We had a great day integrating with Interwork, learning about the business, working with the employees and gaining gardening skills too.