Partnerships from the ground up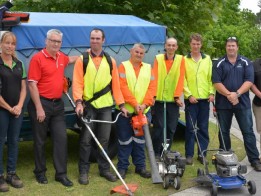 Parks and Wildlife's departmental ethos to work closely with the community is proving successful, with the head office in Kensington forming a strong new partnership with a local not-for-profit organisation.
Community organisation Intework, which provides community engagement programs and employment for people with disability, has taken the lead contract for ongoing garden maintenance works at the department's headquarters.
Fleet and works manager Craig Simpson said the partnership
was a win-win situation.
"We were pleased to be able to engage a not-for-profit organisation that helps the community, and at the same time receive a great service across such a large site," he said.
Intework ADE business manager Paul Timms said he was happy to be working with Parks and Wildlife.
"The department shares many of the values that we have as an organisation, and our supported employees are enjoying the range of work tasks offered at the Kensington site,"
Paul said.
Craig said the change in service provider had been smooth, with the previous lead contractor, Lochness Landscaping Services, remaining on as a subcontractor for a portion of the works.
"Lochness has been instrumental in training and mentoring Intework, so this arrangement works well for all three parties," he said.