Town of Victoria Park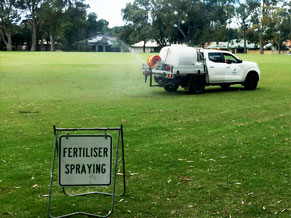 Commercial mowing and landscape maintenance
LLS Aust Pty Ltd have successfully delivered continuous services for the Town of Victoria Park in accordance with their required specifications. This includes cut and drop type mowing, different heights of cuts for various areas and conducting all activities in accordance with procedural requirements.
LLS also undertake dry verge mowing, fertilizing, weed spraying and renovation services as requested by the client annually.
The objective is to produce attractive and manicured parks achieved by the regular and thorough maintenance of the areas. We proud to assist the Town of Victoria with high profile reserves such as McCallum Park and sporting reserves such as Carlisle Oval.
Our works comprise of the following:
• Mowing all reserves from kerb to kerb including around trees, bollards fences, service  pits & all Park infrastructure.
• Whipper snippering around signs, bollards, other fixed objects including service pits & valve boxes.
• Paths edged around and blown clean
• Reporting any turf problems
• Maintain sand pit areas inclusive of the sand pit surrounds
• Removing all rubbish/litter, large branches and any other obstacles from site